Keeping well this winter while pregnant
Illnesses such as flu, RSV, COVID-19, and colds are circulating at high levels in Ireland this winter. There are things you can do to reduce your risk of illness during the winter.
Avoid contact with people who are sick
Anyone who is pregnant should do their best to avoid contact with people who are sick in order to avoid flu and other illnesses. When making plans to meet friends and family, don't be afraid to check that everyone is well, and rearrange to another time if needed.
Keep up good hygiene habits
Practice good hand hygiene by making sure hands are washed properly and regularly, especially if you have been in contact with someone who is ill. If you are sick, avoid passing the virus on to other people by always covering coughs and sneezes with a tissue or sleeve. And make sure used tissues are thrown away properly in a bin.
One of the best ways to reduce your risk of serious illness while pregnant is to make sure you get all your recommended vaccines. The HSE recommends everyone who is pregnant to get vaccinated against flu, COVID-19 and whooping cough.
Getting the flu vaccine is so important during the winter months, especially if you are pregnant. Influenza, also known as the flu, is a very infectious illness caused by the flu virus which can be dangerous to you and your baby. This is why the HSE are encouraging expectant mums to get the flu vaccine so they can protect themselves and their baby. It is available for free from participating GPs or pharmacies.
While flu affects people of all ages, pregnant women are at an increased risk of severe complications. Flu season takes place every year during the winter months, with symptoms including fever, muscle aches, headache and extreme tiredness. The flu is unlike a common cold, as the symptoms are much more severe.
Why get the flu vaccine?
Dr Aparna Keegan from the HSE's National Immunisation Office encouraged anyone who is pregnant to get their flu vaccine, saying "Pregnant women are more likely to get seriously ill from the flu due to changes in their heart and lung function, and are more likely to get very sick with illnesses such as pneumonia. They are also more likely to be hospitalised or even be in the Intensive Care Unit. This is why it's so important for pregnant women to protect themselves and their baby by getting the flu jab."
If you get the flu while you are pregnant, it can lead to premature birth, lower birth weight, or even stillbirth. The HSE has said that getting the flu vaccine can help lower your risk of infection by 40-60%, and can also reduce the risk of stillbirth by over 50%.
The flu vaccine will not only protect you and your baby during your pregnancy, but the vaccine will also help to protect your new-born during their first six months of life as the protection you get from the vaccine will get passed on to them.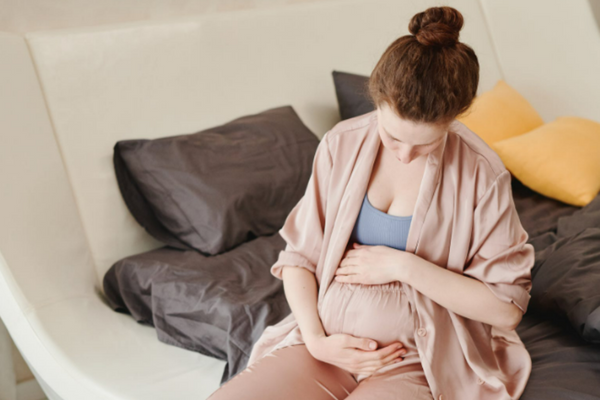 When to get the flu vaccine?
You can get the flu vaccine at any point in your pregnancy, but try to get it as early in your pregnancy as you can, so that you and your baby are protected as soon as possible.
It's possible to get the flu jab at the same time as your whooping cough vaccine and your COVID-19 vaccine. It is important to know that you should get the whooping cough vaccine between weeks 16 and 36 of your pregnancy.
You can get your first round of COVID-19 vaccination and a first booster at any stage of your pregnancy. If you had a booster dose before your current pregnancy, you can get your second booster at or after 16 weeks of your pregnancy.
Flu, whooping cough and COVID-19 are different illnesses and they can all cause serious complications in pregnant women, so if you are pregnant, the HSE advises you to get all three recommended vaccines.
If you were pregnant during last year's flu season and got the flu vaccine then, you'll still need to get this season's flu vaccine. If you find that you're pregnant later in the flu season, you can have the vaccine if you have not already had it. The flu vaccine is available from October to the end of April each year.
Possible side effects of the flu vaccine
The flu vaccine is safe, and cannot give you or your baby the flu. It has been given to millions of pregnant women. In the US it has been given to women for almost 60 years. When you get your flu vaccine, you may experience some side effects. Common side effects are mild and tend to go away on their own within a few days. Serious side effects such as severe allergic reactions are very rare.
Common side effects include soreness, redness or swelling where you got the injection. You may also feel headaches, muscle pains and tiredness. If you feel any of these side effects, take paracetamol and rest, as paracetamol is safe to take during pregnancy. This will help prevent you and your baby getting a fever. Do not take ibuprofen unless advised by your obstetrician.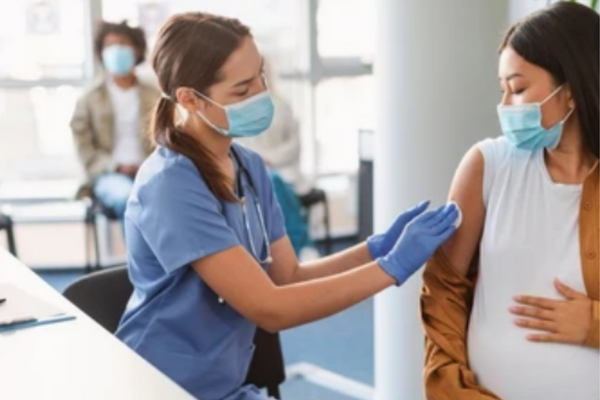 How to get your flu vaccine
Anyone pregnant can get the flu vaccine for free from a participating GP or pharmacy. To book your vaccine appointment, contact your GP or use the Pharmacy Finder service here to find a pharmacy offering flu vaccines near you.
To keep well during your pregnancy remember to get all vaccines recommended by the HSE. This includes flu, COVID-19 and whooping cough. You can find more information on hse.ie
For more information on how to stay well while pregnant, visit mychild.ie.
Brought to you by