Mindless post- just feeling a bit sorry for myself cos this time last week I was in Fuerteventura on the beach- took this photo from my vantage point on my beach towel!!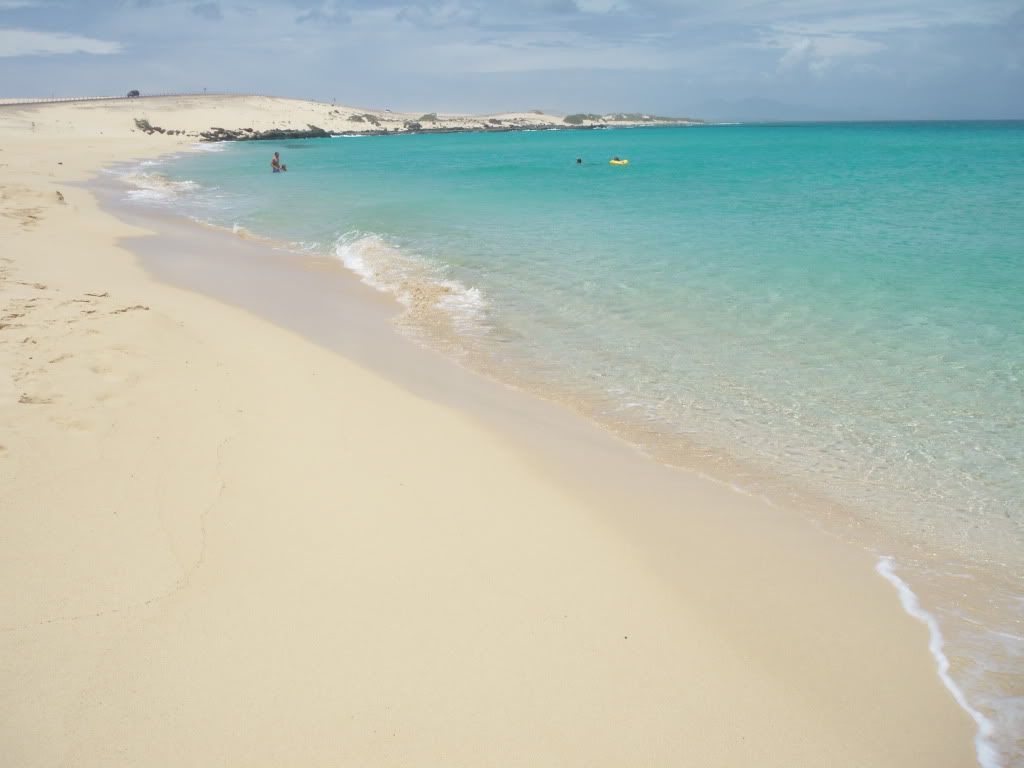 Anyway, just wanted to put up a report about our holidays in Fuerteventura as I had searched the net before I left trying to get info and hope this might help somebody.
We booked the holiday in January and I spent ages looking at villas, hotels etc in all areas of Fuerteventura. We have 3 little kids - all under 5 years old and my mom was coming too. So we needed 3 bedrooms (minimum) and a cot, somewhere with outdoor space and within easy reach of amenities. Hotels were working out very very expensive or most didn't have 3 bedrooms so we would have had to split up and that was not really an option. I (as DH left it all to me!) focused the search on Caleta de Fuste as it is the closest resort to the airport and I really didn't know how the kiddies were going to be after the 4 hour flight (they had never done such a long flight before). So hotels were out with our combination of family. I looked on ownersdirect.co.uk for a villa with a minimum of 3 beds. Most of the villas though had private swimming pools and these were out too because I feel they are just too dangerous, kids and water etc!. Finally found a villa that was in a complex with a huge communal adult pool (and a super kiddie pool!) that was close by, had 3 bedrooms, great terrace, sea views (limited!) and was within budget. We flew out on Friday 29th of April and only got back last Friday!!
Fuerteventura isn't very big and Caleta de Fuste is one of the closest resorts to the airport. We had a rental car (7 seater) and all of us piled into the car for the 10 minute transfer. Caleta is very child friendly, large horse-shoe beach with calm safe waters. Seems to be occupied by mainly British and German tourists but we met a good few Irish too (and some lovely Spaniards). It is dominated by the Barcelo hotel which fronts onto the beach. There is plenty to do in Caleta, with playgrounds, crazy golf, mini train etc for the young ones. As our kids are very young we didn't really need much to entertain them but I did notice plenty of kids clubs on the beach and out canoeing etc. There were a few hotels offering a drop in facility for kids clubs for people staying in Caleta but not in the hotels which was I think a great idea. We didn't use them though as DD1 was too young (and has no interest either!). I think they are from 5 years plus. We didn't really spend much time in the town but there was a great buzz about the place in the evenings.. had dinner out in the restaurant by the harbour one night and it was simply delicious. Lots of Irish pubs and all night boozers there too which seemed to be full a lot of the time (from the outside they looked full anyway, we are not big pub goers and on holidays we prefer a bottle of wine back where we are staying!!)
We were staying up in the golf resort on the hills close to Caleta de Fuste.. It was lovely and so quiet up there. We went to the pool every morning with the kids and we were able to chill out on the sunloungers by the kiddie pool while the kids spent literally hours jumping in and out of the water (it was just above knee deep!). Most days we went back to the villa for lunch then either toured the island in the car or hit the local beach with the kids again. It was absolutely perfect. We have only holidayed in Ireland with the kids up to now but they absolutely loved the holiday.. The weather there was lovely, not too hot and a light breeze most of the time.I used Parasol sun oil on the kids and literally had hats stapled onto their heads and they spent the week in sun dresses and swimsuits. Evening were very comfortable too and no problems sleeping!!
Have already booked again for next year - and we never book the same place 2 years running
If anyone has any questions let me know.. it is very child friendly over there.. any restaurants we went to with the kids were great to give us markers and little activity books etc. It was also very reasonable and we bought fresh bread, fruit, veg every day.. oh and the fish was fantastic. The local fishmonger has such an array of fresh fish every morning.. we had calamari, octopus, seabass, sardines and prawns etc during the week. We just threw them on the bbq back at the villa.. idealic.. It was so nice to sit outside in the evening just chatting with my mom and DH while the kids were asleep. I was nervous enough before we left because my DH and my mom can rub each other up the wrong way sometimes but in the whole week they got on brilliantly and we all came back so relaxed.
Finally logistics.. we flew with Ryanair and paid a little over 600 euro for flights for all 6 tickets, including one baby (under 2). The flight was 4 hours so not too bad. We didn't take priority boarding but were first in the queue for non-priority (got to the airport early and deposited DH at the gate while we went to duty free to watch the royal wedding!). Flight was absolutely fine, had my IPAD for DD1 and a NintendoDS for DD2. Also books, crayons etc and plenty of snacks. Coming home was fine too- it was an evening flight and the kids slept for most of the journey!
Villa- we paid €400 for the villa for the week. Paid for in cash upon arrival.
Car rental- a 7 seater cost us 249 euro for the week but a 5 seater would only have cost 124 or so. That included car seats (3 of them!) and a 1/4 tank of diesel. Diesel was very cheap - 91 cent a litre.
Food - about 200 for the week and we ate very well (and a can of beer was 29c). Dinner out was about 50 euro for 2-3 people and that included a bottle of sangria (kids eat free in some places!).
sorry this has turned into a bit of a novel!!!
eta- sorry about the huge photograph - does anyone know how to resize it??